BADO

Ampati
Name of the Scheme: Construction of Additional classroom for Bidan Bisik School at Rangsakona(250 m)
Amount Sanctioned: Rs. 8.00 Lacs
Years of Schemes: SCA (BADP)2015-16
Established in the year 1994,Bidan Bisik M.E. School at Rangsakona was functioning in a temporary bamboo house comprising of 462 students and 11 teaching staff. The school management found it difficult to function as students from neighbouring villages like Jaluagre,Chigitchakgre,Skagre,Rongsangre,Golmangre,Duminigaon,Bollongitok etc. comes for enrolment every year and there's a lack of space to accommodate them. There is a saying "Education is simply the soul of a society as it passes from one generation to another." Hence without a proper structure, imparting of education is difficult. Hence construction of additional classroom has eased the problem of students and teachers to a great extent.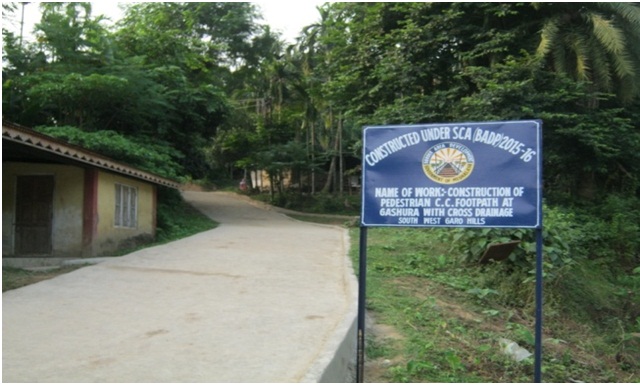 Name of the Scheme: Construction of pedestrian c.c. footpath at Gasura with cross drainage
Amount Sanctioned: Rs. 6.00 Lacs
Years of Schemes: SCA (BADP)2015-16.
With a population of 615 numbers and 126 households,residents and school children of Gasura are now taking advantage of this newly completed footpath. This footpath also provides a safe route to the village amenities for the residents of Gasura and the neighbouring villages. Construction of this footpath has shortened the distance for the school children,the sick and the farmers and has resulted in various employment opportunities for the people of these region.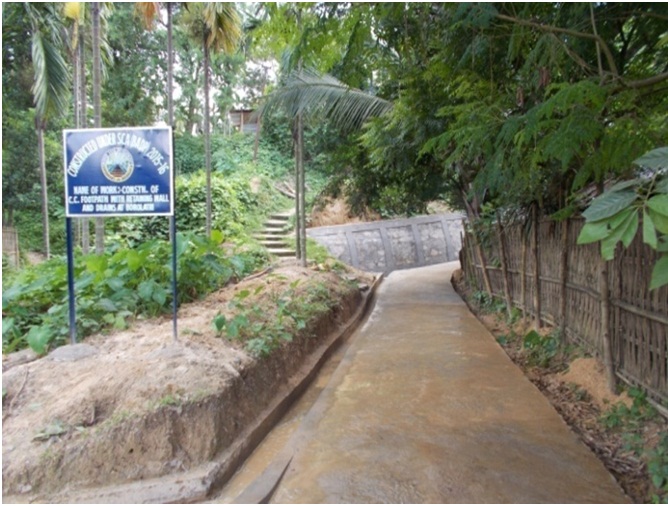 Name of the Scheme: Construction of c.c. footpath with retaining wall and drains at Boro Latri
Amount Sanctioned: Rs. 6.00 Lacs
Years of Schemes: SCA (BADP)2015-16.
With the construction of this footpath,the farmers in these areas now produces more agricultural products by way of generated incentives for marketing their produce at low transportation cost and purchasing the fertilizer, manures and seeds at cheaper rate due to the reduced cost of transportation to the village thereby increasing the productivity of agriculture which is a dominant sector of the economy.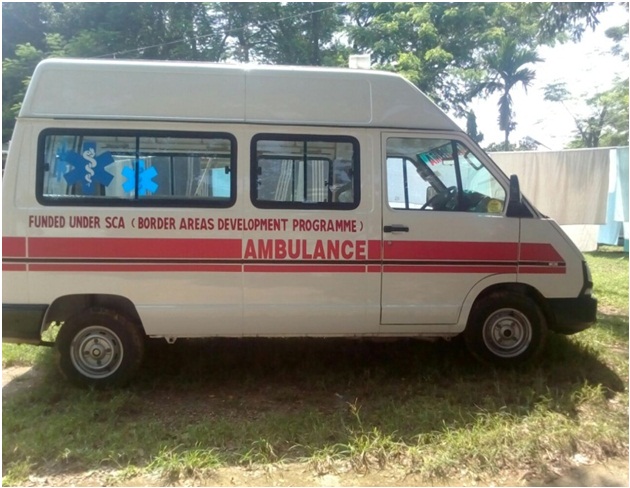 Name of the Scheme: Purchase of 1 no. of Ambulance AC Winger for Ampati CHC
Amount Sanctioned: Rs. 15.00 Lacs
Years of Schemes: SCA (BADP) 2015-16
Purchase of one number of Ambulance was sanctioned under health sector for Ampati CHC with a view to lend a helping hand to the hospital by way of rendering services to the local masses of the area for transportation of sick and injured people to, from or between places of treatment for an illness or injury and in some instances will also provide out of hospital medical care to the patient.
Next