BADO

Baghmara

Tolegre Suspension Footbridge
Length : 00.06 km/60 metres
Cost : Rs.22.50 lakhs
Distance from the district head Quarter : 40km approx
Distance from the nearest Police Outpost : 8 km from Siju
P.o : Baghmara
Sub P.O : Siju
Market exposer : Siju & Nongal Bibra
BADO : Baghmara
Targeted villages : Tolegre, Nokatgre, Dabalgre, Nengrugittim, Aruakgre, Jadigindam & Eman, Gatobil, Nengrugittim

Situated at a distance of 40.00 kms from the District Head Quarters at Baghmara and about 8 kms from Siju, the nearest trade centre that accommodates a Police Outpost on the N.H 62, Tolegre has a salubrious climate throughout the year with a flattish fertile land being a mid-hill valley at about 600m above sea level.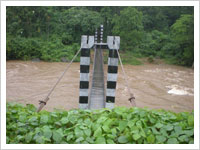 People here are farmers engaged in betelnut, betel leaves, bayleaf, banana, pineapples, oranges and variety of other citrus family fruits farming. Most of them are expert in the art of bamboo and cane based handicraft manufacturing. Versatile bamboo and cane interlace craftsmen are found here, who take advantage of the disabling torrential downpour period to churn out winnows, sieves, conical baskets that taper to a stable degree downward and storage bins. Thus agro-forestry produces are well used with happy results.
Social Benefits: as always these projects have targeted school going children from the remote and relatively inaccessible areas, next on the list being those in need of medical attention like the ill and the injured in accident. It is found that both the beneficiary targets are found to be well served by this important infrastructure to the hilt.
Economic benefits: The fruits of their hard labour are being harvested by the people of Tolegre and the surrounding target villages who are predominantly farmers by accident of geographical location.
Eco-Tourism and Cultural Tourism potential: The presence of endangered species like two varieties of Hornbill, Hoollock Gibbons, Indian Gaur, Wild Boar, Wild buffalo, two- antlered endangered that inhabits the upper ridges of Tolegre at about 800 metres above sea level is enough attraction for eco-tourist and wild life lovers.
Giant Human footprints found near Emangre and astonishingly still Waters of Jawa wari and beckon one and sundry to come and wonder at the spellbinding spectacle.
In conclusion it is a reasonably rewarding socio economic investment expected to usher in more development and economic prosperity.
Rong'dotchi Road Project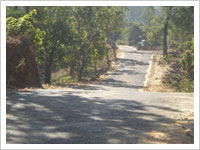 Rong'dotchi, perched atop a hillock on NH-62 at a height of about 500 metres above sea level is only 17 metres from the District Head Quarters on Baghmara Tura Road the implementation of the road project commenced from the second fortnight of November and was completed on the 21st of December 2009. It served as a "Christmas gift" to the beneficiaries/ target area in a record time of 1 (one) month and a week. Social Benefits: Number on the beneficiary list is the school going children who had to hither to traverse unsafe passages through the jungle to the jungle the border road used by the BSF is invariably rendered out of shape during monsoons and hence cannot be used.
Next in line are the ill and accident affected who need immediate medical attention.
Both the categories are found to be well served by this road.
It also help the otherwise hopelessly unemployed to engage themselves in self employment activities like acting as the middle man with an organized setup between the buyers and sellers of the farm handicrafts and agro-forestry produces.
Being high on the hypersensitive list with intense cross-border criminal anti-national activities there was a crime need for a suitable alternative road for the security agencies to tackle those involve in villainous vocation. With the construction of this road it has drastically mitigated the problem.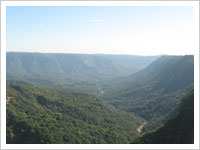 For farmers and their agents dependent on the vagaries of market forces it opened up a new vista and a safe and convenient passage to dispose off their cash crop like cashew-nut, ginger, turmeric, black pepper, chili pepper, pineapple, jackfruit(alternative staple food for people on the other side of the international boundary. It also opens up better avenues to sell their agro-forestry produces like rubber latex derivatives of bamboo and cane.
Products manufactured by a local tribal entrepreneur using material from her own herbal farm at Eringre can also hope for a radiant future.
On evaluation, it is found to be a fruitful investment that paves the way for further development.
Rongara Suspension Footbridge
Span : 80.00 metres
Cost : 24.50 lakhs
Distance from District HeadQuarters : 35 km
Distance from the nearest Police outpost : 00.2 km
Distance from the International Boundary 00.50 metres
P.o : Rongara
Market Exposer : Rongara
BAD Block : Baghmara
Targeted Villages : Rongara, Dobakkol , Gaobari, Toklekbari, Wachal chiring, Block Office, Rongara RongTotma, Nadangkol, Chenggni ,Gulpani, Imbloka, Lower Galasora, Upper Galasora, Kanai.
Estimated Beneficieries : 5000+
Existing facilities : Secondary School, Higher Secondary School, Middle school, Upper Primary School, English Nursery School.
Other Security presence : BSF Company Camp.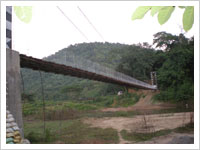 Rongara the C&RD Block, Hd Qtr is situated some 35kms from the District Headquarters on the Eastern flank of the District on the way to Balpakram National Park which is about 30kms further Northeast. Prior to the installation of the footbridge, the beneficiaries of the target communities /villages have to take a detour of about 2 kms to reach their destinations. It proved a major boon to the school going children had to toil in either the scorching sun or the ruthless rain walking a round about way.
Social benefit : as mentioned, the school going children are the ones who are vastly benefitted by the footbridge as it saved them a walking detour of about 2kms from the mouth of the bridge. It meant a great deal to them.
People in need of medical attention also need unnecessarily waste time after a reduction of 2km from the said mouth of the footbridge and reach earlier.
For the security men, tending the frontiers and checking cross border crime and illegal movement of aliens, was company camp is in the vicinity, it meant reduction of about 1.5km to the market place the visit to which cannot be avoided or ignored.
Economic benefits: A major chunk of farm produces are brought from the cultivating points on the other side of river Rongdi to the market place. To them also it meant saving of time and money; hence, cost effectiveness. Looking back at the commitment of the action plan, it is found to be a good social investment.
Rangtangsora Suspension Footbridge South Garo Hills over Moheskola River sponsored by Special central Assistance (BADP) 2008-09.
Span : 120 metres
Total Cost : Rs 36.65 lakhs.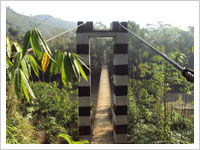 Constructed some 87 kms from the District Headquarters Baghmara South Garo Hills, the project covers four villages, viz Rangtangsora, Gandigre, Nekora and Moheskola on South Garo Hills side and four on the West Khasi Hills side of the inter-district boundary viz Sohling, Chibak and Menggo Kol inhabited by a mixed community of Lyngams, Marams, Achiks, Hajongs, Koch, Khasis. It benefits about three thousand people who shuttle across the geographical divide to meet relatives self farm produces (orange, betelnut, shell lac, ginger, pineapple, bay leaf, turmeric, paan, cashew, medicinal herb/plants; coal & limestone; minor minerals i.e. boulders stone aggregates; agro-forestry produces like cane, bamboo, agar; items of daily household use like bamboo winnow mat employed and bamboo sieve bamboo at employed in the kitchen.
A sizeable number of school-going children and the sick and the accident victims, which is a inescapable feature in both the coal and stone quarrys devoid of choice, especially from the remote West Khasi Hills of the border are largely served by this humble suspension footbridge. Vast unexplored virgin forests await trekkers, tourist and wild life lovers. The extension of the Balpakram legend are partially scattered in the area viz the incredibly crystal clear pool called Sore Auram (Sores Bath), Stair-like underwater natural Rock formation on the Moheskola river called Dikkini Ban (Dikkis Dam), the foulish-smelling stream called Wakso Chiring or Rotten Boar Stream and the low-height limited –depth Menggokol (Cat Cave).
Kasarisora Suspension Footbridge South Garo Hills sponsored by Special Central Assistance 2007-08.
Span : 80 metres
Amount : Rs 33.20 Lakhs.
Kasarisora: The completed suspension footbridge is located at a short distance of 8 km from the Rongara C & RD Block through a bridle path and caters to 2000 and odd users of the system.
There is an U.P. and a L.P. school but still deprived of electricity and basic government-sponsored minimum infrastructure. There is limited capacity community hall but these are the only representations of development or total lack of it and warrants better representation.
With a thick canopy of virgin forests and refreshing vegetation of enormous environmental value beckoning people involve with ecology and nature it constitutes a veritable trekking circuit with a good scope for Bird & Wildlife watching. The place is also of exclusive interest to Butterfly lovers where one is sure to find Exotic Varieties Species. Anglers are likely to discover a bountiful catch on river Rongdi and its salubrious tributaries.
In retrospection, it can be reasonably claimed that the exercise, while setting the starting point for development, is not wasted but well -invested.