BADO

Gasuapara

Visual Highlights of Various Schemes undertaken under Gasuapara border block under SCA-BADP:-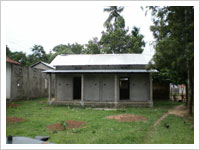 Chambil Tolejang, a daughter hamlet borne out of Chambilgre village lies overlooking the plain belt of Bangladesh on the banks of mighty Dareng river (Distance from border=0.915 Km.). A school building was proposed under this hamlet of about thirty (30) households under the department. A Lower Primary school building was established here since a decade ago with about twelve (12) school going children accommodated in an Assam-type one-roomed building which has been reduced to a cow shed over the years. The number of school children rose to twenty (20) today and the new building was sought. Border Area Department has provided this basic need much to the cheerful faces of so many children of this humble hamlet.
There is an old saying "Education is the Light of the Society". Nevertheless, education cannot be imparted to students without a proper infrastructure. Gasuapara, a strategic location with Land Custom Station to its pride, with a population of about 1500(one thousand five hundred) shares close proximity to Bangladesh (about 0.800 Km.). It is ideal for setting up of border haats besides the usual export of minerals such as coal on a large scale. As of now, people here have generated large income as well as Government revenue from export of coal to the neighbouring country. The number of businessmen alike continues to arrive on this little town every year from different states of India. In the same light, when it comes to education, Gasuapara can also boast of having a large school compound where one Lower primary school extending up to Higher Secondary level are clumped together. The number of students continues to rise over the years.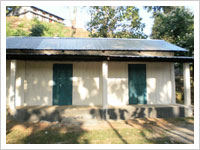 As many as ten (10) to twelve (12) villages in and around Gasuapara have the privilege to attend a Higher Secondary School in this upcoming town. With a view to address the grass-root hierarchy, the department has implemented one L.P. school building here under BADP, District level, 2008-09. The Lower Primary School is proud to have accommodated today about fifty-two (52) numbers of students comfortably today.
Rangra Kantalu is a small village of about eight (8) households falling under 54-Kherapara L.A. constituency. One needs to take a 5 (five) Km. walk from PWD road at Ruga Donegre after crossing Rompa stream and several other rivulets to reach this tranquil spot. The L. P. school building which was completed in December, 2009 (Picture not available), is located at the heart of the village. Some forty-five (45) school going children from the nearby villages also attend school here, thereby the need to construct bigger building arises. As a result, the village headman (Nokma), Shri. Jokesh Sangma took it upon his shoulders to pull in some funds from the village community development funds in addition to the already allotted fund of Rs. 2.00 lakhs (Two lakhs) sponsored by Border Area Dev. Department under District Level, BADP, 2008-09.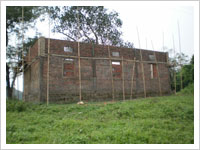 Chokpotgre or popularly known as Chokpot is a highly populated upcoming town under Chokpot C & RD Block (Distance= Approx. 9.85 Km. from the International border). A PWD road connects this place from Tura towards the north and Sibbari from the south at a stretch of 60 (sixty) kms.from both ends. It has a busy market area usually flocked by people coming from other towns and villages for business purposes.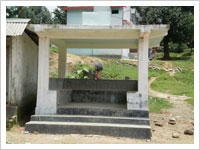 From the months of November till July-August every year one cannot miss the busy traffic of coal-laden trucks plying through this small town. Coal from Warimagre etc. are shipped through this place and towards NH-51 in Tura Dalu road destined at the export point in Dalu. The waiting shed (Pic. 6) was constructed in the heart of the market in a pocket known as Chokpot Paragittim. Since buses ply to and from here on a daily basis, the asset has been a boon to travellers especially during monsoons. Villagers from surrounding areas earn their bread by selling horticultural and agricultural products here during weekly markets. Infrastructure such as market stalls, godowns etc. will also uplift the economic condition of the people of this town in particular and the surrounding area in general.
Bibragre with a population of about 829 (eight hundred and twenty nine) is a small village to the south-east of Chokpotgre on a PWD road. The village is rich in agricultural land with riverbanks of Dareng river on its side suitable for seasonal crops. The proximity of the river to the village has been a boon as well as bane to the villagers here. Frequent floodings have occurred in the past leading to many hardships to the villagers. The RCC footpath which was constructed before monsoon in the year 2009 starts at the main entrance to the village has been of immense help to the people of this village especially to the school going children. Embankments and boulder sausage walls and irrigation canals if provided will be of immense help to the people of this area.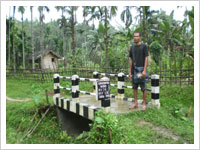 Megapgre and Gongganggre villages under Chokpot C & RD Block are not motorable and people rely on traditional narrow boats popularly known as "Ringdoreng" to cross the turbulent currents of Dareng river during monsoons. A sparsely populated village of Gongganggre has one Lower Primary and one Upper Primary Schools with almost a hundred number of school students. Womenfolk and school going children alike faced many obstacles on their way when they cross streams on a daily basis.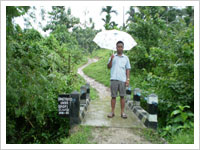 Villagers have to tread narrow and serpentine tracks to fetch drinking water from springs and rivulets which are their only source of drinking water. Hence, construction of RCC footbridges in these two streams has been able to minimize one of the many hardships faced by the people here almost every day.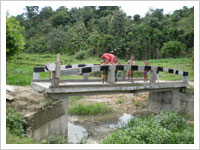 Cherengpara with a population of only 32 (thirty-two) households are mostly resided by marginal farmers. It is located on NH-62 after about 6-7 kms. from the office of BADO, Gasuapara. The village is near to the international border (about 1.88 Km.) and much developmental means are still to be embraced here. Irrigation facilities such as canals, water pumps, and livestock management, agricultural equipments etc. will go a long way to uplift the economic conditions of the people here. The village can boast of only a Lower Primary School and Upper Primary School which are in need of renovation as the buildings are more than a decade old. Border Areas Dev. Department has made its mark by constructing one RCC Footbridge over Agal stream in this village and it has been of immense help to both people and cattle alike to cross the stream during monsoons.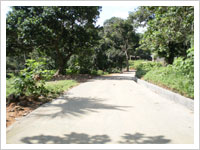 Gasuapara Tambu Ading, a small locality in Gasuapara is a threshold to more than eight(8) villages located to the north of Gasuapara. It has been a link to many villages including Rongsigre, Kalsigre, Rongsepgre etc., to name a few, the areas rich in agricultural and horticultural produce etc. to the main marketplace in Gasuapara. Though far in terms of distance and rugged routes, these villagers have, over the years, relied on tradition and practice to sell off their agricultural produce in weekly markets at Gasuapara. These villages are still lagging behind in proper infrastructure in terms of road connectivity, telecommunications, not to mention their basic requirements such as safe drinking water etc. So, a jeepable road connecting these villages is just a first step towards fulfilling their long cherished dreams. Nevertheless, the department has been proud to have taken the initiative to implement such a project with the consultation with the local MLA (55-Dalu) that such a feat was achieved towards that end.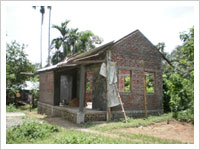 Womenfolk today have the privilege to contribute to the society in more than one ways. With this vision in mind and the ardent leadership of a few, the Women No. 1 SHG has registered themselves with a torch in hand to uplift the socio-economic condition of the villagers in general and womenfolk in particular in and around Gasuapara by way of giving self-employment facilities and marketing of home-grown products etc. As far as five(5) years back the SHG have initiated the weaving centre in a make-shift building with only a couple of handlooms. Since then, the group has shifted to an old pucca building temporarily provided by SSA. With a meager income and assistance from different Govt. agencies, the SHG have purchased two (2) more handlooms today.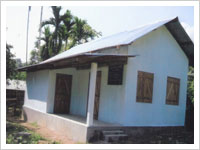 Dearth of space has driven them to look out for bigger buildings and the Border Area Dev. Department has been instrumental in providing that much needed space. The Construction of Weaving Centre completed in the month of November, 2009 has been a blessing from above to this hardworking and visionary women of today.(Pic. 12 & 13 above).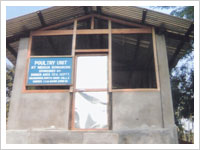 Megua Songmong village, located about 7.0 Km. from Dimapara, a frontier of West Garo Hills and South Garo Hills district is a small hamlet of about 120 (one hundred and twenty) households. A PWD road passes through this place rich in agricultural land overlooking the well-known Bugai river. The villagers have resettled here from its parent location namely, Ruga Ading village on account of population growth and dearth of dwelling place. The residents of Megua - Songmong are well connected by a Kutcha road constructed under NREGS by Gasuapara C & RD Block into the heart of the village. It can also boast of one RCC Jeepable bridge constructed by Border Areas Development Department, South Garo Hills under State Level Scheme under SCA-BADP, 2005-06.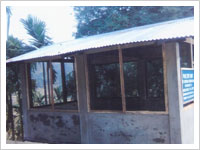 The womenfolk of the village, under the aegis of "DOKUA" Self Help Group (SHG), meaning "Sweet singing bird" of the forest, have taken the initiative of promoting the self-employment opportunities of the villagers in general and womenfolk in particular to propose for a poultry unit through the Border Areas Development Department. The department after conducting the feasibility of the project and coordinating with the local populace identified and sent the proposal for approval by the District Level Coordination and Selection Committee (DLCSC). After its approval, the project was successfully implemented through the "DOKUA" SHG, the implementing agency.
State Level Schemes under SCA-BADP, 2008-09:-
I. Preliminary survey of the project: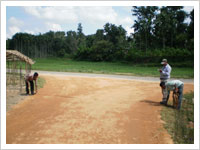 Metalling & Blacktopping of Link road from NH-62 to Silbaripara village was proposed under State Level Scheme sponsored by SCA-BADP, 2008-09. The link road was previously constructed by Gasuapara C & RD Block under NFFWP scheme with only the Metalling and blacktopping part in need of completion. In order to cater to the needs of the people who ply this road every day, both C & RD and the Border Area Development Departments have decided to complete the project on a convergence. With this view in mind, after the approval of the scheme by State Level Screening Committee an amount of Rs. 15.0 Lakhs (Fifteen Lakhs) was allocated for the project. Preliminary survey of the road was carried out under the technical guidance of the Junior Engineer, Hq. Baghmara.(Pic. 16, 17).
II. Implementation and completion of the Project: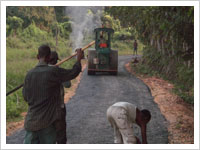 The link road connects NH-62 to the parallel road Silbaripara towards the international border. Silbaripara which is only about 0.250 Km. from the zero line houses about 38 (thirty-eight) households with more or less marginal farmers. The villagers has to tread an uneven path in order to reach NH-62 every Tuesday for a weekly market where they broker for essential items in return for agricultural produce or home-grown products. With the completion of the road project, people from Silbaripara and its surrounding villages can now venture out without fear. Occasionally, this link road acts as an alternative route to the coal-laden trucks heading towards the Land Custom Station, Gasuapara which is only a couple of kms. away. Hence, the link road has filled up the critical gap in terms of trade and commerce of the business community and the common man alike of the surrounding villages in different dimensions.
Gasuapara with its close proximity with the neighbouring country Bangladesh (Approx. 0.820 Km), falls in a strategic location and the presence of Land Custom Station here has facilitated the export activities of minerals especially coal on a large scale. Border Area Development Department has played a significant role in uplifting the local populace of this upcoming town. It has to its credit, undertaken a mega project of "Model Village Gasuapara" in the year 2006-07 and have successfully implemented projects of economic and social importance. For instance, Market stalls and Market Godowns constructed in the heart of Gasuapara market have served the purpose for which it was implemented. The said assets are not but all occupied by marginal or full-time shop-keepers today, not to mention others who are still in queue. The Boys' Hostel and several RCC school buildings constructed under the same aegis have been of immense help to the student community in times of Board Examinations, when one has to halt for several nights at end just to sit for an examination. Several Horticultural projects such as distribution of seedlings, crowns etc. , construction of vermicompost plants, fishery ponds etc. were under taken under the same aegis by the Border Area Development Department.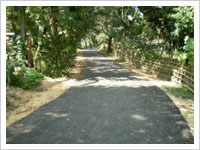 The Metalling & Blacktopping of Link road from Upper Gasuapara to Lower Gasuapara has been a long-standing need of the people of Gasuapara in terms of better road communication between the people residing nearest to the extreme border and Gasuapara for business transactions and daily conveyances. The link road has facilitated the transport of various items/ goods meant for export to the neighbouring country. It has also benefitted the poor marginal farmers and petty shopkeepers who frequent this road everyday to earn their daily bread. The Student community in particular have benefitted from the project, who now can easily reach their school in Gasuapara unlike in the past when they have to pass through muddy tracks along the way. Border Area Development Department can proudly say today that the project was never meant to be wasted. Nevertheless, scope for improvement should be left as Metalling & Blacktopping of another couple of Kilometres on the same road can go a long way in fulfilling the aspirations of the people of this humble but busy town.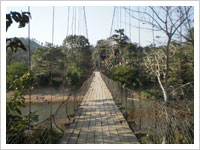 Ruga Songmong village lies on a PWD road about ten (10) kms. from Dimapara. Bugai river, locally known as "Bugi chi" flows alongside the scenic village. Ruga Songmong and its surrounding villages conglomerate during weekly markets here in Ruga marketplace every weekends. A Higher Secondary School has also been established at Ruga Songmong, thereby catering to the needs of the student community of many villages surrounding it. Hence, people from villages across the
Bugai river has to dare its currents during monsoons in order to reach this place. Since time immemorial, the only mode of conveyance across the river was a narrow boat known as "Ringdoreng" which were community owned and the ride across the river would cost one from Rs. 5 /- (five) upto Rs. 20 /- (twenty) depending on the nature of the water currents. In order to ameliorate the suffering of these people, a conveyance of different kind was sought and Border Area Development Department has come to the rescue by constructing a 100 (hundred) metre span suspension footbridge over the river. Today, this footbridge has been utilized by people from more than eight (8) villages from across the Bugai river. Completed in the year 2006, the suspension footbridge still holds its head high and has become a tourist attraction to many. A renovation or repairing of this asset will help in many ways the only lifeline of myriad of people, the young and the old alike, who tread the footbridge every day.