BADO

Ampati
Name of the Scheme: New construction of L. P. School building at Chengkompara Ampati near Baptist Church.
Amount Sanctioned: Rs. 17.00 Lacs
Years of Schemes: SCA (BADP)2017-18
Chengkompara L. P. School is located close to Ampati and is close proximity to DC office, Ampati, South West Garo Hills District. estab The school
was established in the year of 1974 to cater to the needs of primary education in the area.
Since its inception, the school has been catering primar level education to students in the area every year covering a radius of around 2 kilometres. Today, it has about more than 50 students.
The school is in the category of the oldest institutions in the area.
An initiative for new construction of school building was necessary as the A – type school building was in dilapidated condition with roof leakages, damaged doors and windows and on the verge of collapse. Prior to sanctioning of this scheme, the A – type school building has not undergone any major repair works ever since its completion of the old building due to lack of financial aid. The student as well as the teachers has to faced a lot of difficulties especially during monsoon due to roof leakages and absence of proper room. Now, with the completion of RCC school building with 4 nos. of room, the school has once again become lively and has succeeded providing basic school amenities and a proper infrastructure for students as well as to teachers. Today, the students and the teachers can now make use of the building with much ease and comfort.

Name of the Scheme: Renewable sources of energy in cluster villages including electrification of schools and street lighting.
Amount Sanctioned: Rs. 90.00 Lacs
Years of Schemes: SCA (BADP)2017-18.
Understanding the necessity to provide alternative source of energy in the villages, the project on installation of solar street lights, roof top solar inverter for schools and solar high mast for playground was introduced and initiated under SCA (BADP) for Bandalkona Model Village and cluster village. The project on 'RENEWABLE SOURCES OF ENERGY IN CLUSTER VILLAGES INCLUDING ELECTRIFICATION OF SCHOOLS AND STREET LIGHTING' is one of the significant project of Bandalkona Model Village sanctioned under Additional funding of SCA (BADP). The project encompass villages of Chigitchakgre, Kolkatolla, Bolchugre - A, Bolchugre – B, Bandalkona, Jongchetpara and Dalbotpara.
The project had provided lighting to public places, schools, playground, footpath, lane, public water tank etc. The purpose and object of this particular project is to provide independent and uninterrupted natural source of off-grid power supply to centrally located places and school buildings including its compound. The installation of roof top solar inverter with the output capacity of 3.0 KV and two nos of 2.5 KV has been provided to Bandalkona Secondary School, U. P. School and St. Claret School for internal and external lightings, for use of ceiling fan and operation of computers. Prior to installation of roof top solar inverter, the schools were not electrified.The installation of solar lighting has encourage people in the area to embrace new innovative idea for clean, green and efficient energy while setting good examples to other areas. The already overburden load capacity of the power grid connection in the area will also lessen to a great extent.

Name of the Scheme: Sanitation Programme in Convergence with MNREGS & BADP (Construction of 175 toilets in the cluster villages @ Rs. (15,000/- + 5,000/-) each .
Amount Sanctioned: Rs. 35.00 Lacs
Years of Schemes: SCA (BADP)2017-18.
The objective of the sanitation programme in convergence with MNREGS is to provide proper and better basic toilet facility to identified households in the model village of Bandalkona, Chigitchakgre, Kolkatolla, Bolchugre, Dalbotpara and jongchetpara. The project for construction of around 650 Nos of toilet in this cluster village has been sanctioned under Additional scheme of SCA (BADP) for development of model village. Initially under 1st. year plan of Phase - I, a total of 175 nos. of household of Dalbotpara and Kolkatolla village has been targeted to provide toilet. The planning of the sanctioned scheme is to construct 1 (one) no of toilet compartment with the area of 4 X 5 feet and 2 nos. separate spherical septic tank with an area of 3 dia and 3 - 4 feet in depth. The required data of the total nos of household not having toilet facility has been provided by the Block Development Office, Betasing, South West Garo Hills. Upon receiving the sanctioned fund, the amount has been released to Block
Development Office for overall implementation and monitoring. Overall, the work has reached 85% and the remaining portion of work is scheduled to complete in the month of September, 2019.

Name of the Scheme:Skill upgradation of weavers already trained under ISBADP at Kumligaon.
Amount Sanctioned: Rs. 9,83,472/-
Years of Schemes: SCA (BADP) 2017-18
The sanctioned project of 'skill upgradation of weavers already trained under ISBADP at Kumligaon' has been initiated under SCA (BADP) with the main objective to facilitate already trained rural women folk to opt for loin loom as livelihood to ensure decent monetary support to their families besides handloom weaving while facilitating them to embrace and sustain traditional weaving. Loin loom training emphasizes specifically more on the traditional weaving techniques and to revive the languishing craft onto a potential mainstream practice. The sanctioned project for imparting training in loin loom weaving and orientation related training was awarded to renown weaving entrepreneur Smt. Vivien A. Sangma, a proprietor of V. A. Silk Industry, Tura based on the merits of her expertise and vast experience.
During this skill ugradation program, the already trained 50 women weavers in batch of 25 in nos are trained in Eri Silk Weaving with the target to specify perfection in terms of size and shape, mixing right colour and the specific designs to the fabric and fabrics. The training projects involves practical training on means and methods of processing yarn into natural dye. The process of extracting Dye from the locally available natural ingredients such as Lac (laha), aritak (Terminalia chebulia), onion peels (rasinbigil), wild fig bark (gimbilbigil) and anato seeds (cha'kubitchil) has been conducted to the trainee. The upgradation training program is held for 5 months commenced in the month of July, 2018 and a follow up time frame in this respect so as to establish self sufficient and stabilized production centre is kept for a duration of 10 months and ends at October, 2019. The fine products that comes out during the course of the training programme and after has been commercially marketed and is of great success and demand. The trainee upon achieving success in the training programme has been provided a set of loin loom with yarns for a start up business activities. The relentless effort of Smt Vivien Sangma to establish a system of direct access to markets by weavers to sell their fine produce with value added tax has really brought significant changes and set a new trend to the weavers which needs appreciation. As of now, around more than 30 weavers produces a varieties of loin loom products and a supply is being made regularly to the associated firm/agency in Tura and elsewhere.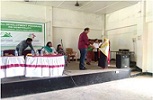 Name of the Scheme: Training programme for women empowerment (Hospitality training) at Ampati.
Amount Sanctioned: Rs. 15.51500/-
Years of Schemes: SCA (BADP)2017-18.
Emphasizing on the need to establish learning centre and to provide skills in specific area that can offer employability and livelihood avenues to women and youths, a project on training programme for empowerment of women in hospitality has been initiated under SCA (BADP). The training programme for 120 trainees has been conducted by School of Livelihood and Rural Development (SLRD) which had commenced on 18th. December, 2018 and had successfully completed in the month of May, 2019. The objective of the training programme is to provide competencies and skill that enable women to become self employed/entrepreneurship through development of interpersonal skills, including team work, problem solving and effective communication. During this training women and youths are trained in all housekeeping activities related to public area and room cleaning which the individual is assigned to. The youths are also trained in preparing food and beverages service operation in the allotted outlet.
The training includes receiving proper instruction, getting trained, preparing table for service operation, understanding guest requirement, assisting them and fulfilling their requirements. The trainees are imparted basic skills in spoken English so as to learn the day to day communication needed in the industry.
During the course of the training, the overall performance of the trainees are assessed by SLRD the performance and provided certificates to the successful trainees.
Awarding of certificates to successful trainees by Shri S. Ram Kumar, Deputy Commissioner, Ampati in presence of officials of Border Areas Development has been held at MFC, Ampati on 8th June, 2019. The success of the training programme has offered the people of the border areas to start their own enterprise such as home stay, a guest house and F&B outlet. To ensure and evoke a sense of encouragement and entrepreneurship amongst the trainee, a follow up action on this matter is being initiated by SLRD.