BADO

Ampati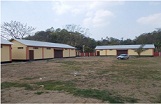 Name of the Scheme: Construction of centre for Agro-based entrepreneurship (Collection, Grading & Packaging as ancillary feeder unit for Agro based processing unit).
Amount Sanctioned: Rs. 100.00 Lacs
Years of Schemes: SCA (BADP)2017-18
The main objective of this sanctioned project is to provide proper storage facility and necessary
infrastructures to farmers and seasonal cultivators of the area. The storage building cum processing unit has been constructed at Bandalkona – a centre point and a hub of trading activities to around 15 - 20 villages.
The basic objective of the project in creating a centre for agro based entrepreneurship is to facilitate and encourage farmers and growers fraternity from the area with direct market links and help to provide optimum profits from sale of their own agricultural produce while giving importance to value added tax and also facilitating it with proper storage area and processing room and space to the farmers community enabling the farmers and growers to get better returns and reducing the risk of storage loss of raw materials before conveying it to the retailers.
The project includes basic components of 4 (four) units of storage godown, a processing rooms, boundary brick wall, internal water supply, sanitary public toilets and electrification.


Name of the Scheme: Construction of Deep tube well and over head tank at BOP  Mahendraganj.
Amount Sanctioned: Rs. 21.075 Lacs
Years of Schemes: SCA (BADP)2017-18.
The developing town of Mahendraganj is directly bounded by International boundary fencing with Bangladesh and located at N 25°23'8.98" and E 89°50'57.19". The project for construction of deep tube well with overhead water tank at Mahendraganj was initiated under the sector of security related scheme of BADP with the objective of facilitating clean potable water to BSF as well as to the inhabitants residing close to international boundary fencing. The construction of deep tube well with overhead water tank has greatly benefitted the people as the area lack potable drinking water. This project has also immensely helped the difficulties of the Border Guarding Forces (BGF) to great extent as they can now directly pumped the filtered water to the overhead PVCs container located at their designated camps with ease. This project of providing overhead water tank with deep tube well including filtration has saved time and manpower of the BSF personnel as their routine to fetch water from far off places has been lessen. Prior to commencement of project, the GPS coordinates of recharging water table are first ascertained and identified to ensure the accurate position of water hole before initiating the drilling works. Due to the nature of topography and low lying areas, the underground water in the area of Border belts contained saline and iron solutions which are not fit for human consumption and hence require treatments to decontaminate acidic solutions. However, in this project, the boring drill has been drove more than 180 feets until the water beneath the ground is free of acidic solution. The construction of this deep tube well brought enormous relief to the people as well as to the BSF personnel. The water is drawn deep from the earth layer and pumped to the reservoir from the tube well to the overhead storage tank and supplied after filtration. Apparently, the villagers as well as other Government Institutions located in the vicinity are also taking the benefit of this clean water which is filtered for safe drinking purposes. Apart from drinking and household use, the farmers in the area also utilize the water from the tube well for irrigating their paddy fields.

Name of the Scheme: Erosion Protection and river training of Daru river at Bandalkona.
Amount Sanctioned: Rs. 260.00 Lacs
Years of Schemes: SCA (BADP)2017-18.
Bandalkona village located at the North East corner of the district headquarter Ampati is located at N 25°27'15.99" and E 89°58'51.99". The population consists mainly of farmers and cultivators. The village is centrally located to 15 (fifteen) other cluster villages. The village has a sub post office, a medical & health sub centre, a secondary school, U. P School and 2 other privately run schools and a centrally located school playground. The south east corner of Bandalkona village is directly bounded by swift flowing river Daru. The village is often played havoc by river Daru during monsoon and incessant rain and is often plagued by erosion of large mass of soil rendering destruction to properties and human lives. The U. P school building and the only playground catering to around 8 villages which is located close to Daru river by 3 metres has been badly affected and eroded by the river. As a result, large chunks of earth mass of the agricultural lands, a portion of the premises of the school building and
the only playground has been swept away by the swift flowing current of the river Daru in the course of time. The already rendered damages if left unchecked and not reinforced with concrete will result to further loss of cultivable land, school buildings and playground.
The project for erosion protection and river training of Daru river has been initiated under SCA (BADP) so as to provide protection against further erosion from river Daru and to initiate reclamation of loss land area. The strategic stretch of land mass eroded and badly affected by Daru river has been identified and duly reinforced. A RCC structure with a stretch length of 150 running metres and 9 metres in height and 1 metre thickness reinforcing with specific design of counter fort reinforcing after every 3 metres stretch has been constructed. The land area eroded in the course of time has been refill from nearby available land mass. The project has rendered proper protection and safeguarding to schools, playground and agricultural lands and approximately around 50 nos of household has benefitted from this project.


Name of the Scheme: Providing a Force Trax Ambulance With Life support system.
Amount Sanctioned: Rs. 15.00 Lacs
Years of Schemes: SCA (BADP) 2017-18
Providing one number of Force Trax Ambulance with Life support system to Bandalkona model village, a project initiated under Additional scheme of SCA (BADP) for development of Model village was implemented with the objective of facilitating better health care and emergency medical service to centrally located Bandalkona and 5 (five) other cluster village. The project is aimed to equip the medical and health sub centre of Bandalkona with a emergency medical mobile service for emergency situation and to ferry patients referred for better treatment at the District hospital or hospital outside the district. The ambulance procured is equipped with life support system and basic emergency items such as oxygen tank, 2 nos. of detachable stretcher, first aid & medicine box, attached wash basin, emergency lighting etc. The ambulance is ceremoniously handed over to Bandalkona Model Village Development Committee by Smt. Miani D. Shira, Hon'ble MLA – 54 – Ampati (LA) in presence of Dr. Khona A. Sangma, DM & HO, Ampati, South West Garo Hills for proper utilization and safe keeping of the vehicle.
The proper utilization of the ambulance is being monitored by the District Medical and Health officer as well as the concerned office of Border Areas Development, Ampati while other aspect such as well being of the vehicle, regular maintenance, remuneration/perks to driver shall be on the onus of the committee of model village. The project is of great significance since it had offered common people of the villages to avail benefit of the emergency medical service any time and at their own doorstep thus bringing the people closer to government institution and understand the importance of emergency medical service and attention to various emergency medical conditions.

Next